Get the Kitchen of Your Dreams
Is your kitchen too small, outdated or just doesn't fit your lifestyle anymore? If so, consider remodeling your kitchen with Top Rung Construction! Our design professionals can help you create your dream kitchen and our crew can bring it to life. We will listen to your concerns, pinpoint your style and work with the highest quality products to deliver a new, gorgeous, functional kitchen for your home.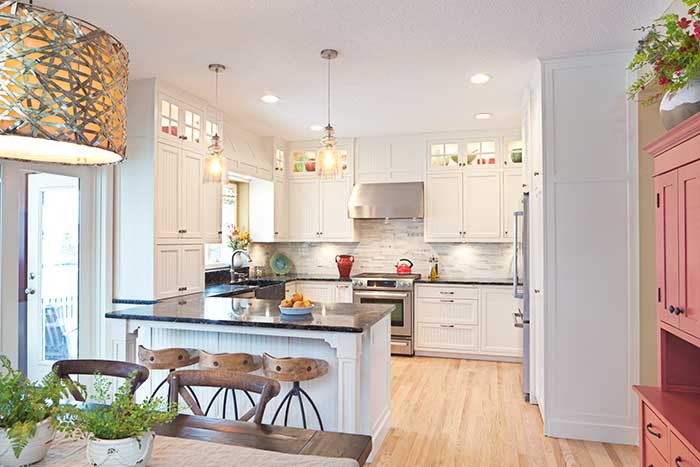 Benefits of Investing in a Kitchen Renovation
There are many benefits of investing in a kitchen renovation for your home. With our professional kitchen remodeling services, you can:
Get more space. We can increase the square footage of your kitchen either with an addition or by expanding it into another area of the house so you can have more cabinets, counter space and storage for everything you need.
Improve the kitchen's function. Tiny, cramped kitchens don't allow much room for living. A more spacious kitchen with an open concept and a professionally designed layout can make your kitchen better work to your advantage.
Increase home value. A kitchen renovation can increase the value of your home, whether you're planning on selling in a few years or are staying in your home for years to come.
Create a custom look. We will work with you to create your ideal kitchen, from the square footage to the cabinet finishes to the right type of flooring.
We pride ourselves on delivering affordable solutions. Top Rung Construction can handle all phases of your kitchen remodeling project or step in whenever you need us to!
Get a Complimentary Estimate for Your New Kitchen!
Contact us today to schedule a complimentary kitchen remodel estimate with Top Rung Construction. Call us at (253) 893-1101 or submit your information through our contact form and we'll be back in touch soon!