Professional Bathroom Remodeling for Your Home
Top Rung Construction works with homeowners to meet all their bathroom remodeling needs. Whether you need to update your bathroom for better accessibility or just want to design your dream bath, we can help you create the perfect space. Our team can expand your bathroom, give your existing one an update or create a completely new bathroom in your home.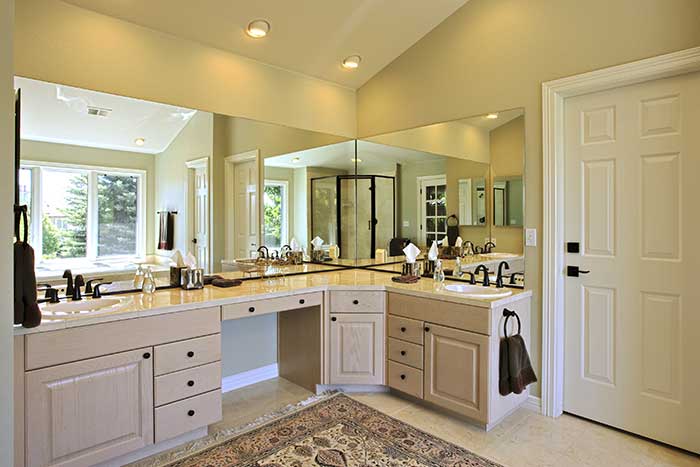 From your master bath to your powder rooms, we have the professionals, products and service you need to renovate your home's most important spaces!
Why Remodel Your Bathroom?
Remodeling your bathroom gives you a chance to incorporate features that add value to your space, such as storage and accessories, or to design a layout that makes sense for your needs. A bathroom renovation can also:
Increase home value. Buyers love to see updated, modern bathrooms that they don't have to renovate after purchasing a home.
Make your space safer. A bathroom renovation gives you a chance to change out that old tub or install a zero-threshold shower for better accessibility and safety.
Add more room. Bathrooms can quickly become cluttered due to lack of storage space. We can help you choose the right layout for cabinets, countertops and other storage to make your space less cluttered and more serene.
Achieve better function. From tub-to-shower conversions to changing the layout of your vanities, you can enhance the flow of your space to enjoy better function and less frustration in your bathroom.
If your bathroom is outdated, inaccessible or difficult to clean, it could be time to consider bathroom remodeling with Top Rung Construction.
Schedule a Consultation Today!
Get a complimentary consultation and estimate for your bathroom remodeling needs in the Seattle area by calling Top Rung Construction at (253) 893-1101, or fill out our contact form to request an estimate and we'll be back in touch as soon as we can!